2022 SEASON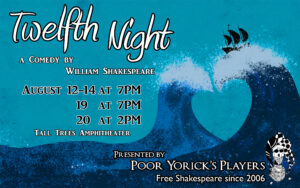 TWELFTH NIGHT

by William Shakespeare
Directed by Adam Rutledge
August 12-14 and 19 at 7PM
August 20 at 2PM
All shows FREE
Tall Trees Amphitheater
Monroeville Community Park West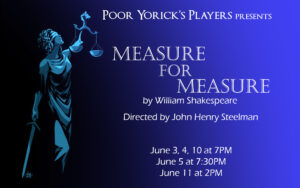 MEASURE FOR MEASURE
by William Shakespeare
Directed by John Henry Steelman
---
2021 STAGE SEASON

We're back in 2021 for our big 25th show! But why do just one Shakespearean play, when you can do ALL of them!
---
2020 ONLINE SEASON
In 2020, Poor Yorick's Players undertook a new project:
an edited, filmed performance of A Midsummer Night's Dream.
Set in a socially distanced 2020, the rude mechanicals and irresponsible lovers are struggling with art and romance within the confines of the virtual meeting platform.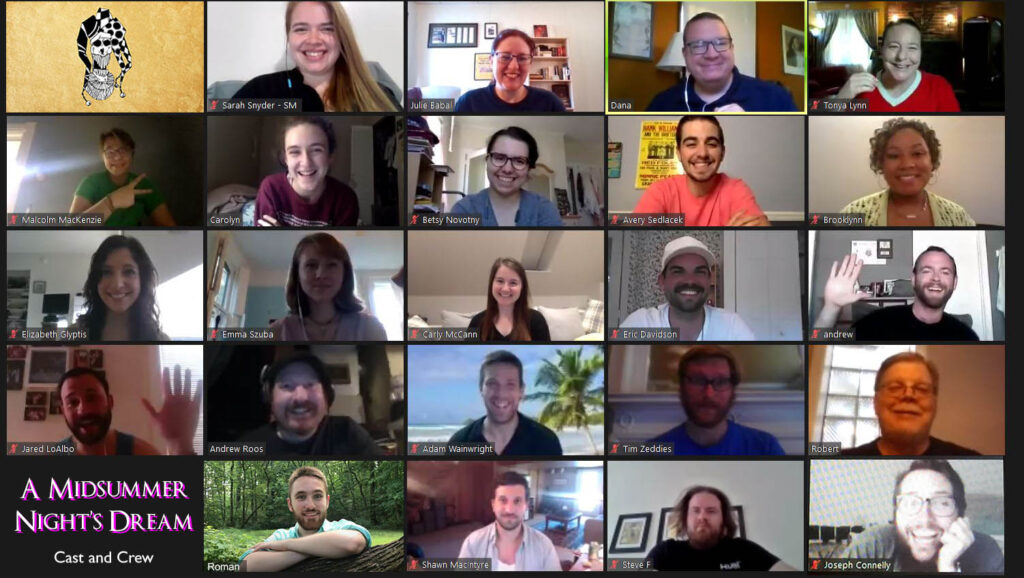 You know that quote about the best laid plans of mice and men? It seems like we're living it. While we had amazing plans for our 2020 summer season, including a celebration of our 25th show, the universe had other ideas. But sit idle and let the summer pass by without celebrating the Bard? Yorick would never. We sat down with director and board treasurer Julie Babal to talk about our ambitious virtual performance of A Midsummer Night's Dream, which will premiere on August 21.
"We wanted to do something different and take another avenue during quarantine," said Julie. "When we were considering which plays we could perform virtually, we had the idea to actually set the play itself during the stay at home order." Julie landed on Dream after realizing that having a little bit of magic in the mix would probably help explain away some eccentricities born from a virtual production. 
After a record number of auditions, Julie cast eighteen actors from around the world to participate in the show. Hailing from London, Chicago, New York City, and, of course, right here in Pittsburgh, the cast recently completed their principal filming, leaving the finishing touches in the hands of Julie and editor Dana Babal. The cast is an even mix of Poor Yorick's Players alumni, both in Pittsburgh and beyond, and new actors.
"The whole cast has been so patient and understanding as we've been basically building this plane as we're flying it," Julie said. "It's an adjustment, especially considering that because we're recording it, they'll never be playing live in front of anyone per se." 
Using special effects like green screens and some old-fashioned theater tricks, Juile and Dana plan to make this production of Dream just as magical, if not more so, than any other they've been a part of in the past. Thanks to some quick editing, they'll be able to cut out any pauses, lags, or overlapping speech to ensure that comic timing and iambic pentameter remains spot on for the final product.
"We've approached this whole idea with a lot of flexibility. We've tried to stay in our lanes and use as many practical effects as we can," said Juile. "We're really excited to be doing something  creative as a company, even though our season was cancelled. It's so important in times like these to find a corner for the arts to exist, and we're so excited to see how it's received."For updates on the premiere of Poor Yorick's Players' digital production of A Midsummer Night's Dream, follow us on Facebook and Instagram, and subscribe to our newsletter.
Brevity is the soul of wit…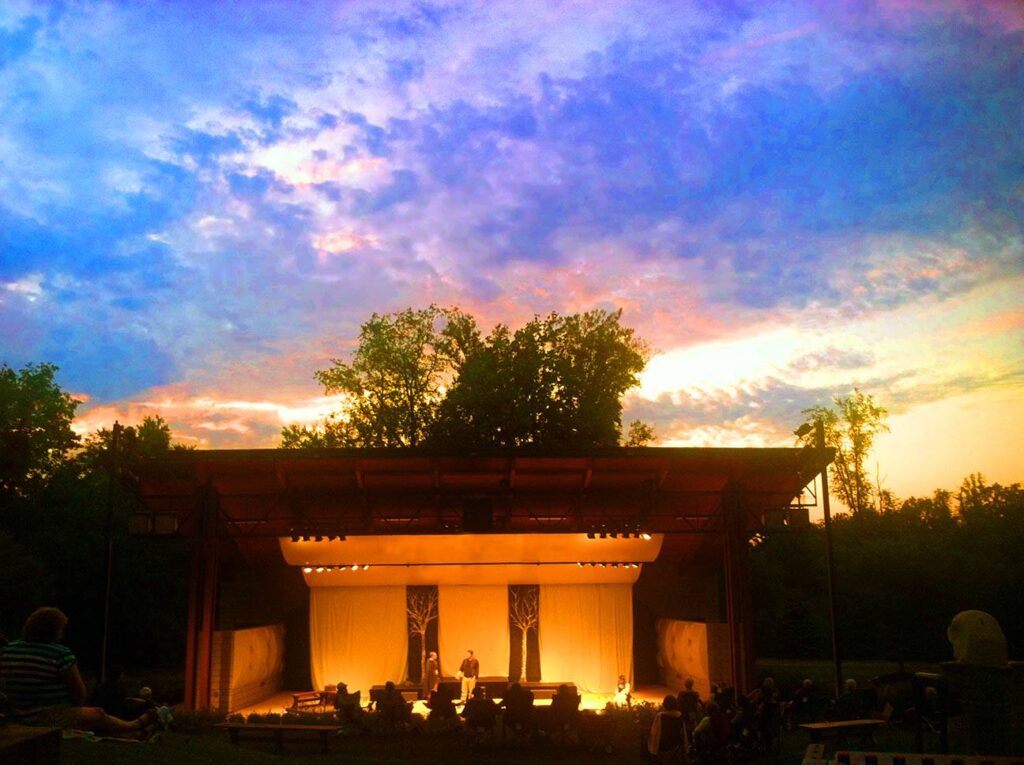 …so we'll keep this short. During our virtual birthday bash for the Bard last week, we  were reminded of how important our community is to us. Though we may be far away from our home at Tall Trees Amphitheater in the Monroeville Community Park, we felt close to supporters, actors, and friends while we were laughing, reading, and listening together to celebrate William Shakespeare.  
As we hope you know by now, we've adjusted our schedule to ensure the safety and well-being of all of our patrons and players: auditions are now taking place on June 27, hopefully back at Tall Trees. Our show, Measure for Measure, will be performed on August 21-23, 28-29. We're postponing our 25th anniversary performance of Hamlet  until next year. And we'll keep adjusting if we need to.
In the meantime, though, we know one thing for sure: we'll keep gathering, on the phone, via email, on video calls and Facebook. We'll read verse and practice monologues and there just might be some secret plans that can earn you some prizes. We'll come together somehow to watch our friends do Shakespeare proud. Though things may not look the same as they always have, we know this for sure: our community was here before, it's here now, and you can bet we'll be here after all of this, sitting in the park with Yorick and celebrating our community theater and our theater community.