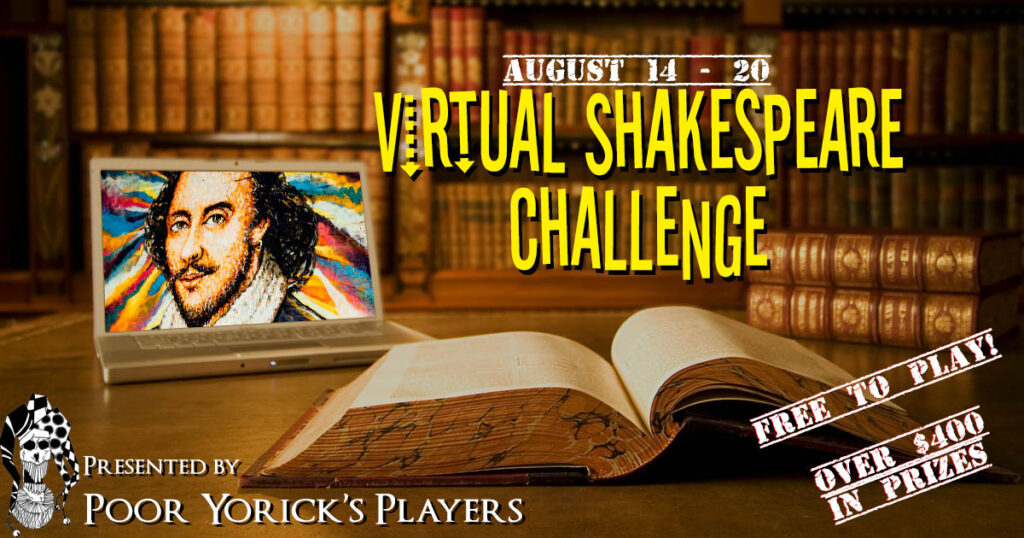 NEW QUESTIONS WILL BE POSTED ON THIS PAGE EVERY DAY OF THE GAME
AUGUST 14 – 20 AT 8PM EASTERN
We have been able to thrive as a theater company for 15 years due to the support of our community. Times being what they are, we'd like to give back.
Please join us as we present our first Virtual Shakespeare Challenge. It's free! It's online! No strings attached!
And first prize is $200 worth of gift cards to local businesses.
Who will win? Could it be your team?
Play every day from Aug 14-20.
Check this page for rules, updates, and questions.
DON'T SEE OR CAN'T CONNECT TO TODAY'S QUESTIONS?
Sorry, that's a browser cache issue. Clear your cache and cookies and try again.
Or just read the questions at https://www.facebook.com/PoorYoricksPlayers/
If you're just joining the game, you can still receive points for previous days' answers.
The game is still wide open!

All answers for all days must be submitted by 8PM EST on Fri, August 21.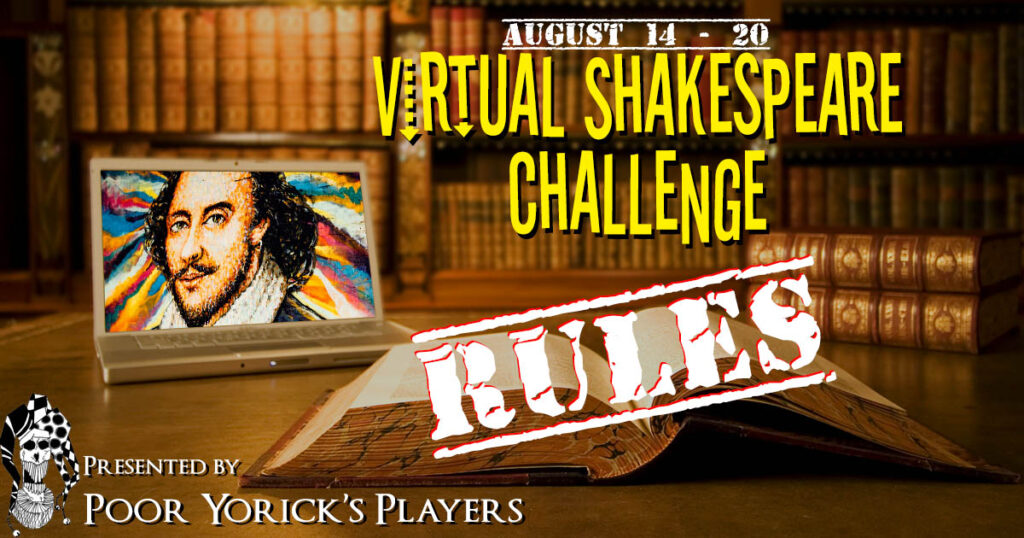 Game runs every day from Fri, Aug 14 through Thur, Aug 20.
At 8PM each day of the game, we'll post 5 questions on our Facebook page and on our website. (You're already here!)
We will not give hints or additional information on questions, so don't even try. 🙂
DO NOT POST ANSWERS ON FACEBOOK – You're only helping your competition!
Each day, send an email with your answers to pooryoricksplayers@gmail.com
Subject: (Your Team Name) – Answers, Day 1 (or whatever day you're answering)

Your first day of answers, include the address of your team captain and a list of team members.
YOUR TEAM CAN ANSWER EACH SET OF QUESTIONS ONLY ONCE
Answers can be in the form of text, pictures or links.
Questions will be worth 1 to 5 points each, based on difficulty.
First team that answers all 5 correctly gets 3 points for that day;
2 points for 2nd place; 1 point for 3rd place.
Final day is worth double points.
Teams are welcome and recommended, but you may work as an individual.
Each day will include one Bonus Challenge, requesting you to send us something a little more creative and fun. Bonus Challenges do not award points for the game, but will be scored for our Bonus Challenge Winner prize.
Bonus Challenge is subjective, so be creative!
Challenge accepted?
Winners announced on Fri, Aug 21.
Prizes are gift cards to local businesses around Pittsburgh and Monroeville.
1st = $200
2nd = $100
3rd = $50
Bonus Challenge Winner = $50
The best answers will be featured on Facebook after the game ends.
No registration necessary.
If you join late or miss a day, that's OK! You can still answer older clues later.
If you add a team member, just let us know in your next answer email.
Obvious Disclaimer: Poor Yorick's Players' Board Members and immediate family are prohibited from winning.