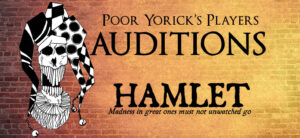 AUDITIONS – HAMLET
by William Shakespeare
Directed by Dana Babal
Nov 13-14
10:30-1:00
Pittsburgh Mennonite Church
2018 S Braddock Ave, Pittsburgh, PA 15218
Yorick is committed to diversity and inclusion. All roles are available and all are encouraged to audition.
Please prepare one Shakespearean monologue of less than two minutes. You may be asked to read additional monologues or sides.
Video auditions accepted.
The CDC advises that it is safest for participants to be vaccinated. Callbacks will be in small groups and actors may occasionally be within six feet of each other.
Actors will receive a small stipend.
Rehearsals begin Dec 13.
Performances Jan 28-30, Feb 4-6