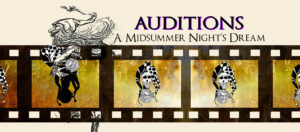 AUDITIONS
A Midsummer Night's Dream
Poor Yorick's Players is seeking actors for a new project: an edited, filmed performance of A Midsummer Night's Dream. Set in 2020, the rude mechanicals and irresponsible lovers are struggling with art and romance within the confines of the virtual meeting platform.
Auditions will be on May 30th from 10-5 on Zoom.
Rehearsals and filming will take place from June 8 – July 10.
Yorick is committed to diversity and inclusion. All roles are available and all are encouraged to audition. And since we are working online, even actors in cities far away are welcome to audition!
Please prepare one Shakespearean monologue of less than two minutes.
You may be asked to read additional monologues or sides.
Video auditions accepted vie email. The deadline for video submissions is May 30 by 3 PM.
Stipend available. Once you have completed our audition form, we will contact you to schedule a Zoom audition.
Sign up using this form: https://forms.gle/SHWQXuAS4787Bchv8
If you have any questions, please text Stage Manager Sarah Snyder at (724) 961-3234 or email pooryoricksplayers@gmail.com.
We hope to see you there!