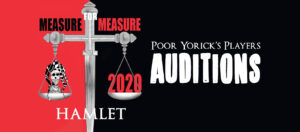 2020 SEASON AUDITIONS
MEASURE FOR MEASURE – HAMLET
Saturday and Sunday, April 18-19 from 2:00-4:00
Tall Trees Amphitheater
2447 Tilbrook Rd.
Monroeville, PA 15146
For an audition appointment:
Email: yorick@pooryoricksplayers.org
Phone OR Text: 412-537-1705
FB Messenger: www.facebook.com/pooryoricksplayers
Yorick is committed to diversity and inclusion.
All roles are available and all are encouraged to audition.

Please prepare one Shakespearean monologue of less than two minutes.
You may be asked to read additional monologues or sides.
Video auditions accepted.
Stipend available.
Call, text, or email with additional questions.
MEASURE FOR MEASURE
Directed by John Henry Steelman
Rehearsals begin May 11
Performances June 12-14, 19-20
HAMLET
Directed by Dana Babal
Rehearsals begin July 13
Performances August 21-23, 28-29
Callback dates TBA.