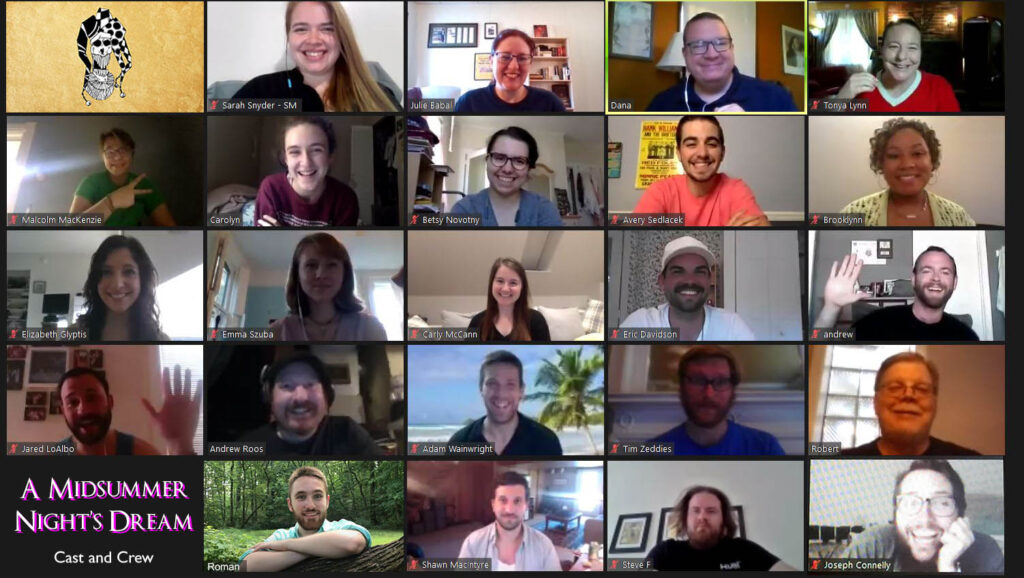 You know that quote about the best laid plans of mice and men? It seems like we're living it. While we had amazing plans for our 2020 summer season, including a celebration of our 25th show, the universe had other ideas. But sit idle and let the summer pass by without celebrating the Bard? Yorick would never. We sat down with director and board treasurer Julie Babal to talk about our ambitious virtual performance of A Midsummer Night's Dream, which will premiere on August 21.
"We wanted to do something different and take another avenue during quarantine," said Julie. "When we were considering which plays we could perform virtually, we had the idea to actually set the play itself during the stay at home order." Julie landed on Dream after realizing that having a little bit of magic in the mix would probably help explain away some eccentricities born from a virtual production.
After a record number of auditions, Julie cast eighteen actors from around the world to participate in the show. Hailing from London, Chicago, New York City, and, of course, right here in Pittsburgh, the cast recently completed their principal filming, leaving the finishing touches in the hands of Julie and editor Dana Babal. The cast is an even mix of Poor Yorick's Players alumni, both in Pittsburgh and beyond, and new actors.
"The whole cast has been so patient and understanding as we've been basically building this plane as we're flying it," Julie said. "It's an adjustment, especially considering that because we're recording it, they'll never be playing live in front of anyone per se."
Using special effects like green screens and some old-fashioned theater tricks, Juile and Dana plan to make this production of Dream just as magical, if not more so, than any other they've been a part of in the past. Thanks to some quick editing, they'll be able to cut out any pauses, lags, or overlapping speech to ensure that comic timing and iambic pentameter remains spot on for the final product.
"We've approached this whole idea with a lot of flexibility. We've tried to stay in our lanes and use as many practical effects as we can," said Juile. "We're really excited to be doing something creative as a company, even though our season was cancelled. It's so important in times like these to find a corner for the arts to exist, and we're so excited to see how it's received."For updates on the premiere of Poor Yorick's Players' digital production of A Midsummer Night's Dream, follow us on Facebook and Instagram, and subscribe to our newsletter.